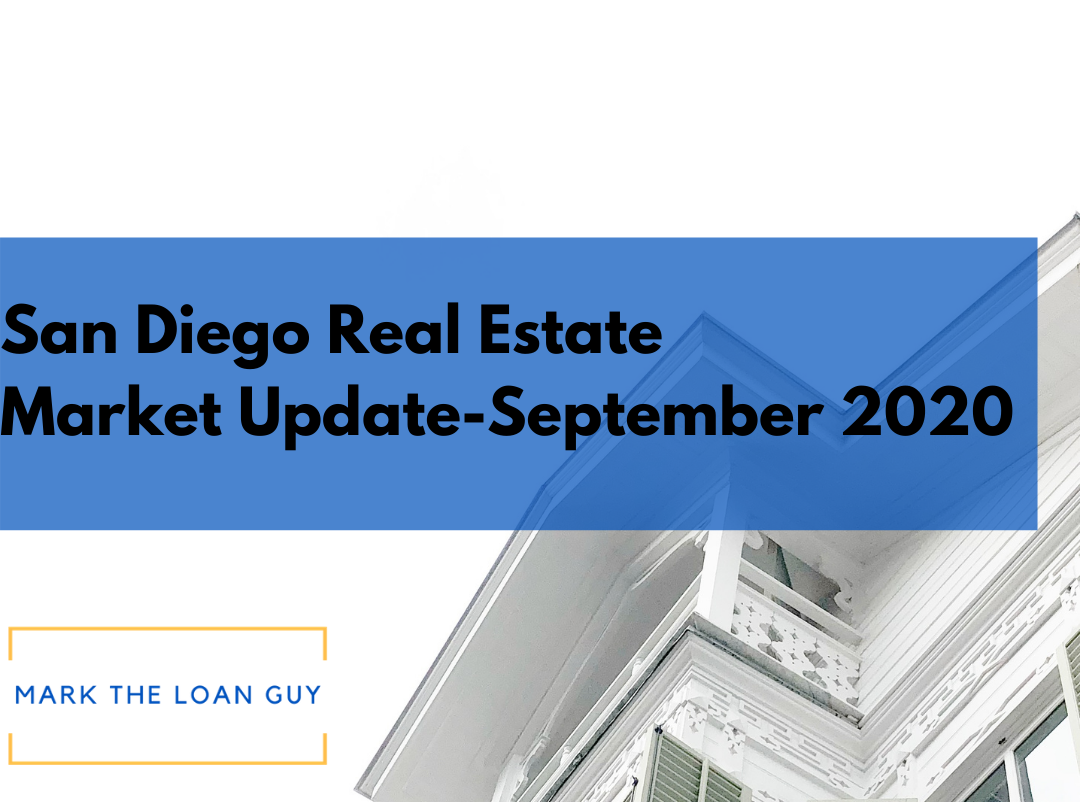 Over the last few months we have continued to see record-low rates. The average 30 year fixed rate is currently 3.010% which is good news for buyers looking to purchase a home. If you have thought about taking advantage of low rates to refinance, you may want to act fast due to the 0.50% fee* that will be imposed on most refinances. This news comes from Fannie and Freddie and will be in effect for conforming loans delivered after December 1, 2020. This is most likely a response to the large amount of refinances that have occurred due to the low rates. Many conforming lenders are already pricing this fee into their loan locks.
In San Diego we continue to see a low inventory of available homes, meaning more competition for buyers. Inventory for detached homes is 52% lower compared to last year; and attached is 30.2% lower. Low inventory has been a problem for some time now, and it continues to drive up prices. This is good news for sellers who can expect to receive multiple offers on their home and sell it quickly. On average, marketing times are down to 24 and 25 days for detached and attached homes respectively, but we have all seen those homes that sell in a matter of days. If you're working with buyers, make sure they are prepared to act fast. Get your buyers pre-approved for their financing. Be aware that many lenders have slow turn times these days due to very high refinance volume. Some lenders are running two weeks for underwriting purchases. After loan approval, it can take 10 days to clear conditions for loan documents. There are still lenders who can close purchases in 3 weeks. Get realistic turn times from your lender to meet contingency periods.
Good news on non-conforming loans. The jumbo lenders are returning to the market with competitive pricing. However, underwriting guidelines are still strict with requirements for higher credit scores, lower debt-to-income ratios and higher reserve requirements. Also, self-employed borrowers are scrutinized with more conservative underwriting of income. Also, bank statement loans for self-employed borrowers and debt service coverage loans for investment properties are slowly returning to the market. Rates are higher for these Non-QM loans, but they are coming back. Non-QM loans can also be useful for borrowers with credit events.
The Federal Reserve has announced a more aggressive policy to allow higher inflation before raising their overnight discount rate. According to the Fed, their long-term strategy is to keep rates low for the upcoming years. This is an effort to boost spending. However, long term lenders who make 15 and 30 year fixed rate loans may raise rates in anticipation of inflation. In my opinion, this indicates that mortgage interest rates are more likely to go up from here than down.
Let me know when I can help.
*The fee will apply to most refinances, with some exemptions being:
Mortgages to purchase a home
Refinances with loan amount below $125,000
Refinance loan amounts above $510,400, or your conforming local limit (Jumbo Loans)
HomeReady refinance loans
Home Possible refinance loans