I spoke with Bloomberg about the rise of refinancing we have seen.
Market timing is always an issue in the real estate and financing business. Although many expect rates to continue to decline, we do not know where the bottom will be. But, when people wait to see the bottom, they jump into the market AFTER the moment of greatest opportunity. In this case, lowest interest rates. In addition, they forgo the time that they would have enjoyed a lower interest rate by seizing a good market opportunity NOW.
Rates go up and they go down. We do not know the how much or when they move. Here are two alternative scenarios with more change and less change in interest rates. In an ideal world, we want to hit the bottom, marked with the red arrow. I my opinion, it is better to seize a rate opportunity as rates decline rather than miss an opportunity as rates are increasing. I have also observed that rates increase faster than they decrease in past cycles.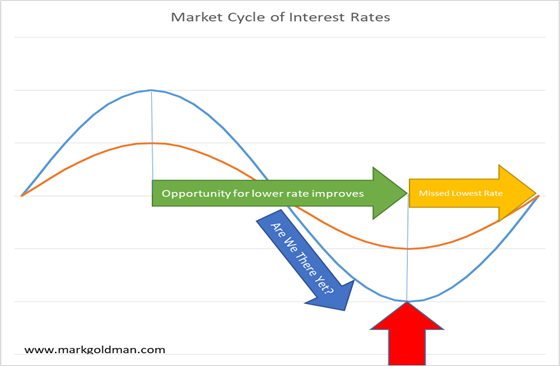 I think now is a great time to review mortgage debt and evaluate a refinance. Let me know how I can help you.
For the full article, click here.